The challenge as we see it
Water is a valuable resource that is central to many industrial processes. As resources become scarce, finding sustainable water management solutions is becoming increasingly important.
---
Our differentiated value
As a leading expert in water management, Veolia controls all the stages of the water cycle and can address all industrial challenges, thanks to a portfolio of more than 350 proprietary technologies. We are unique in our industry as the only company with the technologies and business model to service our customers with performance guarantees.
Our technologies provide unrivaled flexibility and solutions for:
Experiences ranging from process water to wastewater, product recovery and resource recycling
Custom and sustainable solutions for a wide range of industries as well as commercial and general manufacturing facilities
Over 160 years and in all corners of the world, customers have depended on Veolia to deliver fit-for-purpose environmental solutions.
 
---
Our solutions for proprietary water treatment technology

Our portfolio of proprietary water treatment technologies combined with our operational experience allows us to increase and extend the value of water and wastewater resources.
Physical/chemical processes
Biological treatment
Anaerobic wastewater treatment
Filtration and separation
Evaporation and crystallization
Mobile water treatment
Treatment chemicals and membrane-based solutions
With over 163,000 employees worldwide, we provide water, waste and energy management solutions that contribute directly to our customers' sustainable development and competitiveness.
 
---
Benefits for our customers
Valuable resource or product recovery
Integrated design-build solutions
Customized and standardized water treatment equipment
United States
Chevron San Ardo
Managing the San Ardo Water Reclamation Facility in a truly sustainable way.
The refinery in San Ardo, CA features the first-ever installation of OPUS® (Optimized Pretreatment and Unique Separation) technology.

The project is the first produced water desalination facility in the world to use OPUS technology, a multiple-treatment process that removes contaminants sufficiently to meet the requirements for discharge.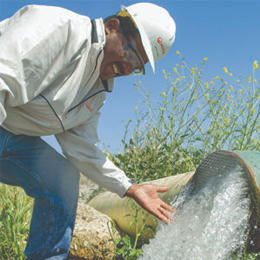 United States
See more
Check out more of our innovative solutions.
Our cost-effective energy solutions are focused on efficiency, resiliency and sustainability.

Our waste and regeneration solutions are compliant with strict regulations, cost-effective and focused on environmental management.

We provide our customers clean, safe and resilient water and wastewater operations worldwide.