Think circular: extract value from waste and resources in supply chains and build a healthier, more resilient and livable planet
Today, we live in a radically different world than that of our parents and grandparents. While our world faces unseen levels of resource shortages, climate destabilization and a rapidly growing population, our global needs are only intensifying.
Presently, the global economy is only 8.6% circular. This means that of the 110 billion tons of materials being used every year within the global economy, only 9.4 billion tons —  10% — are reused or find a second life. With experts arguing that the climate crisis will be the "biggest global health threat" of the 21st century, Veolia strongly believes that it has a moral obligation to the environment and to future generations to do more together to restore a balance.
Now is the time we make a fundamental shift towards the circular economy.
We are witnessing the dawn of a new industrial revolution which introduces the circular economy. By being more sparing and efficient, the circular economy provides an antidote to overexploitation of the environment and to the more pessimistic forecasts, by prolonging the life cycle of raw materials, water and energy. It teaches us something not theoretical but is based on facts, and it draws inspiration from nature, in which everything is a resource.
Antoine Frerot
Chairman and CEO, Veolia, France
What is the circular economy?
The circular economy is a solution for industry and business at all scales to reduce, reuse and recycle waste. This solution extends beyond reducing trash in landfills, reusing products and recycling plastics. The circular economy aims at breaking our current outdated economic linear model of "take-make-waste" and turning all wastes into a resource by reintroducing them into the production cycle instead of product disposal at the end of their useful life. The circular model is based on three principles:
 
Design out waste and pollution
Keep products and materials in use
Regenerate natural systems
By re-thinking how we produce, consume and extend the life of finite resources, materials can be recycled or leveraged further in a continuous flow, generating resource savings, protecting supplies, maintaining materials at their highest value and reducing carbon footprint. By shifting our economic models from a linear into a circular economy, we can help turn "take-make-waste" into "made to be made again."
Veolia, leading the way
At Veolia, we're committed to a future where end-of-life resources are transformed into products that enrich our lives and power homes and businesses. A future where production and consumption go hand in hand – and nothing goes to waste. With more than 160 years' experience in water, energy and waste management, we have the expertise to design environmental solutions that drive the circular economy and deliver exceptional value to our customers. 
If you'd like to learn more about the circular economy and how we're helping North America build circularity foundations, visit: veolianorthamerica.com/circular-economy (in English only).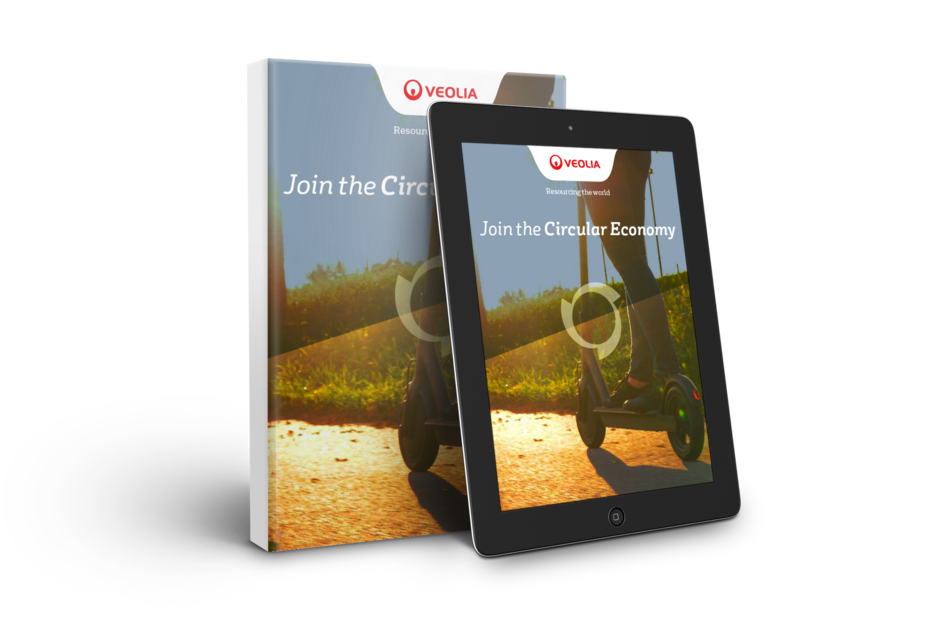 VNA's Ebook on Circular Economy
Download our FREE eBook to learn how it can benefit your business.
Join the circular economy conversation
VNA's Circular Economy Blog
Subscribe to our blog to continue learning about the circular economy and the role you play in accelerating the shift in North America (in English only).
#LivingCircular
Online resource designed by Veolia to provide inspiration and to share ideas on sustainable models for future growth
The resourcing machine
Discover all of the circular solutions developed by Veolia worldwide.
PLANET
Find out more about how we are "Resourcing the world" by reading "Planet", the Veolia Group's quartely international magazine.