The challenge as we see it
Obsolete and end-of-life electronics may contain toxic or hazardous materials, such as cadmium, lead or mercury which can contaminate the environment if disposed of improperly.
---
Our differentiated value
We provide our customers everything from de-manufacturing and recycling to asset management, data destruction and metals recycling in order to convert waste into useable products, thus eliminating potential liability in the future.
---
We tailor recycling programs around your needs. By working with us, you can benefit from the following:
Five fully-permitted recycling facilities across North America
Two RCRA Part B permitted facilities
Responsible Recycling©: 2013 (R2) certification in Phoenix, AZ
ISO14001/OHSAS-18001 certifications in Phoenix, AZ
​Solutions for large and small quantities of electronic waste
Company-owned nationwide transportation and logistics capabilities
Audited and approved third-party transportation network
Audited and approved downstream processing vendors
​Dedicated account and customer service representatives
​Documented packaging guidelines
Customized reporting capabilities
Electronic waste is one of the fastest growing waste streams globally. This has been spurred by increasing technological advances that drive the development of new products and the replacement of outdated equipment.
 
---
Our solutions for electronics recycling

Our knowledgeable representatives understand e-waste and are ready to tailor a recycling solution to fit your needs, ranging from complete destruction and recovery of metals, plastics and glass, to maximizing the reuse and resale of intact components. 
Wide range of materials recycled, including: Computer components; computer peripherals; consumer electronics; generators; mainframe computers; medical equipment; monitors and cathode ray tubes (CRTs); motors; office equipment; personal computers (PCs); printers; fax machines and copy machines; servers; speciality medical electronics; telephones and telephone systems; wires and more.
Our solutions make recycling electronic waste easy. We handle every step of the process to ensure compliance.
 
Complete range of services: We offer our clients a variety of services designed to fit their needs. We can manage your computer assets, provide data security, de-manufacture, recycle and reuse/resell various equipment in order to offer the most cost-effective service options available.
Packaging & transportation: We provide you with a variety of boxes and containers to store and ship your e-waste. We also provide coast-to-coast transportation utilizing our unmatched fleet of semi-trailers, box vans and approved third-party transporters to ship your waste to one of our four fullypermitted recycling facilities.
On-time pick up: When we promise a pick up, we adhere to that promise. Once arrangements are made, you can count on us to be there on time.
Audited and approved downstream vendors: Our Phoenix, AZ facility has achieved certification to the Responsible Recycling©: 2013 (R2) Program for electronics recyclers.
Documented compliance: Once received and recycled or disposed, we'll issue a certificate, documenting your electronic waste were received and managed in accordance with all regulations
As part of the R2 certifications process, we must exercise due diligence in ensuring that downstream recyclers and processors manage recycled materials appropriately, throughout the downstream recycling chain.
 
---
Benefits for our customers
Solutions that fit your needs
Customized programs to help waste minimization
Standards to meet all compliance regulations
Focus Innovation
Our electronics recycling solutions prioritize compliance
RecyclePak® makes recycling easy for small quantities of lamps, ballast and lighting components. One price includes everything you need to begin recycling — packaging, prepaid shipping from your facility, processing and certificates of recycling. Simply order, fill, seal and ship with the prepaid shipping label. Visit www.prepaidrecycling.com for more information.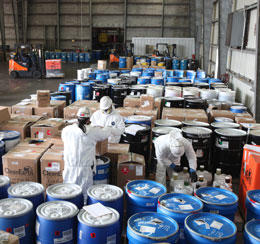 United States
Military Base
A cross-functional team unites to take on a military project.
After the Cold War ended, environmental regulations tightened, and the military was left with cylinders of chemical agents in storage, all containing hazardous residue requiring treatment and disposal in an environmentally compliant manner.

See how Veolia built a diverse team of experts from the industrial cleaning, electronics recycling and hazardous materials groups who worked together to develop an innovative solution for dismantling containers off-site and recycling the components.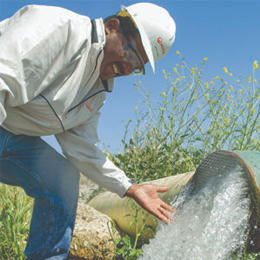 United States
See more
Check out more of our innovative solutions.
Our cost-effective energy solutions are focused on efficiency, resiliency and sustainability.

Our waste and regeneration solutions are compliant with strict regulations, cost-effective and focused on environmental management.

We provide our customers clean, safe and resilient water and wastewater operations worldwide.